Snospis Eht ("SNOSS-PISS-ETT") or ("SNAWS-pis ETT") is a series of animated 3-D videos created by Andywilson92. They are a parody of the American animated series, "The Simpsons".
They revolve around the surreal misadventures of Lisa and her mother Marge, her father Homer, her brother Bart and her sister Maggie.
Background
Edit
From an early age, Andywilson92 had watched The Simpsons [1]. He created Snospis Eht in the late 2000's, as he was annoyed at the declining quality of the show.
Characters
Edit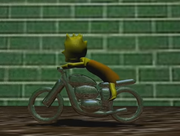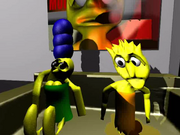 Main article:
Snospis Eht characters
Main characters
Edit
Supporting characters
Edit
External links
Edit
References
Edit
Ad blocker interference detected!
Wikia is a free-to-use site that makes money from advertising. We have a modified experience for viewers using ad blockers

Wikia is not accessible if you've made further modifications. Remove the custom ad blocker rule(s) and the page will load as expected.