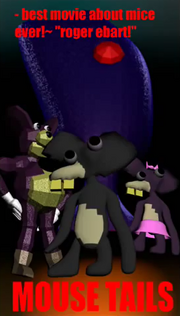 The
Mouse Tails poster
is a poster for Andywilson92's series
Mouse Tails
. It appears in several episodes.
Characteristics
Edit
The poster shows Mouse Tails, Magic Mouse and Wonder Mouse, with Mr Fishly towering above them. A fake quote by Roger Ebert is seen at the top of the poster, saying '-best movie about mice ever!~ "roger ebart!"'.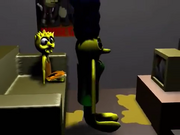 The poster first appears in the
Snospis Eht
episode
Snospis Eht: Barts Duty.
, where it is seen on the wall of the
Snospis basement
.
It also appears at the end of Filling Time a Mouse Tails adventure or somthing.
Appearances
Edit
Ad blocker interference detected!
Wikia is a free-to-use site that makes money from advertising. We have a modified experience for viewers using ad blockers

Wikia is not accessible if you've made further modifications. Remove the custom ad blocker rule(s) and the page will load as expected.